Readers' Rides
A new page dedicated to the heart rending stories of true love between man (or woman) and machine!
Myra's 1914 Ladies Golden Sunbeam
For all those who have been desperately awaiting the glorious wonder of my 1914 'Golden Sunbeam'...
(and for all those who haven't..)
It was looking pretty sad when I bought it...
But has scrubbed up quite well...
"with a variable gear, say 56 for the hard work, and 74 for not so hard work,
ladies will find the Sunbeam an ideal mount..."
John Marston, Sunbeamland, Wolverhampton.
Specifications: (Mr Chumley Warner…)
Frame: Ladies drop, 23". Built of the best butt-ended weldless steel tube.
Gears: Silent 2 speed epicyclic gear, mounted inside the front chainwheel and fully enclosed and lubricated inside the one and only, genuine 'Little Oil Bath' gearcase.
Wheels: 28" diameter, Westwood profile rims.
Tyres: 28" by 1 1/2" Dunlop or any best make.
Cranks: 6 1/2"
Brakes: Rod actuated front and rear, with leather brake blocks.. ('stopping' was an optional extra this model was not blessed with though..)
Handles: Celluloid, with screw ends containing repair outfit. (absolute genius..)
Saddle: Brooks' Ladies' B85, with plated springs.
Weight: Including variable speed gear and gearcase 31-32lb.
Finish: "All Black" (yes, you could have any colour you liked, as long as it was black) Best black enamel, frame lined in gold leaf. Best quality dress guard. Plus headlock system, tools &c.
On receipt of a Golden Sunbeam, fill the measure (in the tool bag) with best lubricating oil once, and empty through the screwed hole at the back of the gearcase.

Now for the (really) boring bit... here's what's inside...
I've replaced all bearings with new (over 400...), Tim helped with the wheel re-spoking (obviously), and after a good bit of TLC (and a bit of hammering)... she's all fixed.

***********************************************************************************************

Russ's new love.
On a typical mild winters day somewhere in Dorset, Russ set out with a small amount of fear and trepidation to meet his 'new love' for the first time. Russ had done his research but still only had pixelated images from the internet and small pictures in 'those sport magazines' of his chosen other half, so nerves were high and thoughts of 'what if? and 'if only' kept seeping into the far reaches of his mind.
But he needn't have worried, she was a thing of beauty, a 'proper stunner'. One look at her flowing curves and deep red frame had Russ hooked straight away. He couldn't wait to get his hands on her and wasn't disappointed when he lifted her up in his still shaking hands!
'She's so light, so gorgeous, soooo mine!' he exclaimed!
He couldn't wait to take her for a ride and after checking out her exact weight with disbelieving eyes wide open, did just that.
So look out for Russ out on the road with his new love, a picture of true love and devotion ( just don't tell his other half....his Giant Anthem X )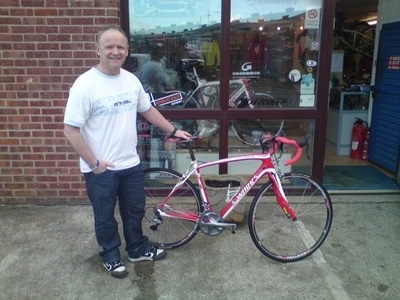 Just in case you can't see the numbers, it says 11.28lbs (complete bike!) and did each one of the four times we checked, as we didn't believe it either!
Russ and his new 'thing of beauty'! Specialized Roubaix S Works